How to report members
Even we at My Ladyboy Cupid manualy check all profiles and with which we remove incorrect and fake profiles from our site, it unfortunately still can happen that an incorrect profile ends up on the site. There are "Report" buttons on every profile page, and on every conversation page for members who bring MyLadyboyCupid to shame.
How to report a member:
1. At the bottom of every profile page there is a report button;


2. When clicking on this button it opens a new window;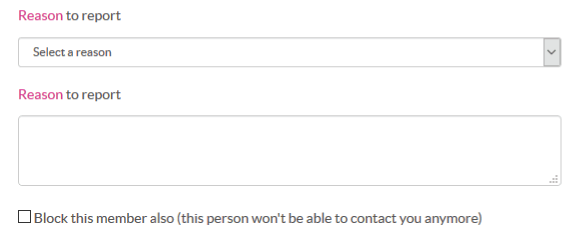 3. Select the reason why you want to report this member;
4. Describe with as much as details as possible why you report this member in the text field;
5. if you also want to block the member, you can do that by adding a checkmark at the 'Block this member' field;
6. Finally, click on the Submit button to send the report.
We keep all information and the reporter's identity confidential and private.
If you have any questions, you can always contact our customer service. We can be reached 24/7 by using the contact form
If you want to read this explanation again at your convenience, then click here to download the PDF file
Back to top