To many foreign men, this is how they envisage Ladyboys. So many men see them as the epitome of Asian womanhood. The subject of dating fantasies and dreams, with beautiful Ladyboys appearing all over the internet on dating sites such as MyLadyboyCupid. The objects of desire... yet, to some, sort of a "forbidden fruit". The temptation is there for many men who want to date Ladyboys, although some are concerned about what their friends or family might say or think...
When you close your eyes and think of Ladyboys, invariably thoughts turn to the famous Ladyboys of Thailand who star in the fabulous cabaret shows. Or the beautiful Trans-pinay from The Philippines. These are the most visible of Ladyboys across Asia. But there are Ladyboys or Transgender women in Vietnam, Singapore, Malaysia and Indonesia where they are usually known by different names locally. However, the term "Ladyboy(s)" seems to encapsulate the essence of a T-girl so well, it is used to describe Trans women in a variety of Asian countries.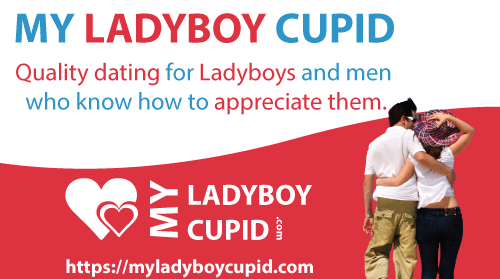 Where did the term Ladyboys originate?
No-one is really sure where the term "Ladyboy" originated from. But that it came from Thailand is a reasonably safe bet. Kathoey is actually the Thai term for Trans women but two things. Firstly, as with many words used to describe the "third gender", over time Kathoey(s) has come to be seen as overly negative or even derogatory. Secondly, as the visibility and awareness of Transgender women increased, especially amongst foreign tourists to Asia, a new word to describe these beauties evolved. With "Lady" from the female side, and "Boy" from the male side, the combination word of "Ladyboy" was born. The term seemed to aptly fit the combination of genders and became synonymous with Transgender woman in Asia.
No-one is really sure where the term "Ladyboy" originated from. But that it came from Thailand is a reasonably safe bet.
Ladyboy is a generic enough term to be used in countries other than Thailand, even though local variations such as "Wariah" in Indonesia, "New Half" in Japan or "Tong Zhi" in China are in use. The Philippines, of course, has its famously beautiful "Trans-pinay". Unfortunately, Trans people in the last-mentioned country are dogged by references to being gay and this term is persistently, but incorrectly, used in the media, on TV shows etc.
For many Ladyboys their day to day lives are a conundrum. Certainly, in Thailand and The Philippines, Ladyboys and Transgender women are generally widely tolerated but not wholly accepted. In other Asian countries, it can be more difficult for Trans women, especially in seriously religious countries such as Malaysia or Indonesia. Fundamentally, being a Trans woman or a Ladyboy in Asia (and the rest of the world for that matter) is misunderstood. Sometimes the misunderstanding is innocent, but often it is deliberate.