Welcome, to the vibrant and exciting world of Bangkok's nightlife! In this comprehensive guide, we'll be taking you on a thrilling journey through the top 5 ladyboy bars in Thailand. Get ready to immerse yourself in the unique atmosphere of these establishments, where you'll find unforgettable experiences, stunning performances, and friendly staff, all within a fun and welcoming environment.
Introduction to the 5 best Ladyboy bars in Bangkok
Bangkok is famous for its diverse nightlife scene, and one of the most intriguing aspects is the city's array of ladyboy bars accepted in Thailand. These bars offer a truly special experience, blending traditional Thai culture with modern entertainment. Whether you're a seasoned traveler or a first-time visitor, exploring the best ladyboy bars in Bangkok should be on your must-visit list! 😊
Ladyboy bars are unlike any other nightlife venues you've ever encountered. They provide an exotic fusion of cultural experiences and entertainment, showcasing the unique talents and charm of Thai ladyboys. In these bars, you'll be entertained by stunning cabaret-style performances and get the chance to interact with the lovely performers. What's more, you'll be welcomed with open arms and embraced by the warm and friendly atmosphere that permeates these establishments.
In this guide, we'll be covering our top 5 picks for the best ladyboy bars in Bangkok, each offering a distinct and unforgettable experience. We'll provide you with insights into the ambiance, performances, and special features that make each bar stand out from the rest.
Plus, we'll be sharing some tips on how to make the most of your night out while respecting the performers and enjoying the unique aspects of Thai culture. And, of course, we won't forget to mention our personal favorite, the Calypso Cabaret! 😍
So, without further ado, let's dive into our top 5 list and get ready to explore the captivating world of Bangkok's ladyboy bars!
Top 5 Ladyboy Bars in Bangkok: A Quick Overview
| Ladyboy Bar | Location | Unique Feature | Atmosphere |
| --- | --- | --- | --- |
| True Obsession | Nana Plaza | Unforgettable Experiences | Energetic |
| King's Castle 2 | Nana Plaza | Royal Ambiance | Extravagant |
| Calypso Cabaret | Asiatique The Riverfront | Cultural Fusion | Spectacular |
| Cascade Ladyboy Bar | Nana Plaza | Themed Nights | Enchanting |
| Cockatoo Bar | Nana Plaza | Cozy Retreat | Intimate |
Get a quick glance at the key features and location of Bangkok's top 5 ladyboy bars. Use this overview as a guide to choose your perfect spot for a night of vibrant entertainment and captivating performances.
1. True Obsession: The Ultimate Ladyboy Experience
Our first stop on this fabulous journey is True Obsession, a remarkable ladyboy bar that promises to deliver the ultimate ladyboy experience. Located in the bustling nightlife district of Nana Plaza, True Obsession is a must-visit venue for anyone looking to experience the best of what Bangkok's ladyboy scene has to offer. 🌟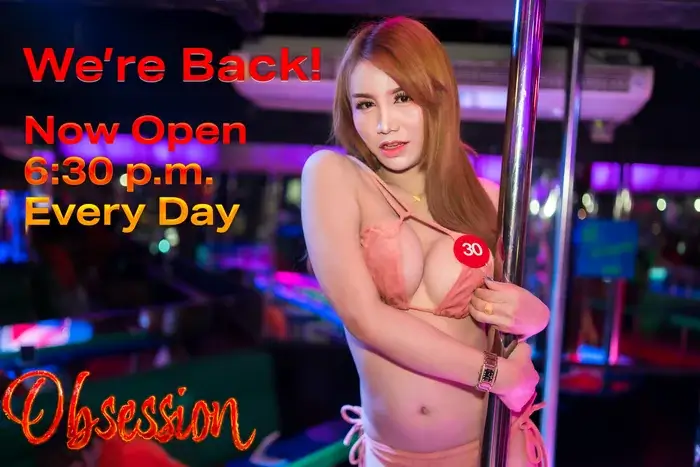 Description of True Obsession's Setting
As soon as you step into True Obsession, you'll be instantly captivated by its enchanting ambiance. The dimly lit interior, adorned with sparkling chandeliers and plush velvet seating, creates a sultry, intimate atmosphere that sets the stage for a night you'll never forget. True Obsession's layout ensures that all visitors have a great view of the stage, while the friendly staff are always on hand to make sure your experience is nothing short of amazing. 🥂
Types of Shows and Unforgettable Experiences
True Obsession's diverse array of shows and performances truly sets it apart from other ladyboy bars in Bangkok. Each night, you'll be treated to a dazzling lineup of talented Thai ladyboys performing in various acts, ranging from high-energy dance numbers to sultry, seductive cabaret routines. The performers are not only incredibly skilled dancers, but they also have a flair for engaging the audience and ensuring everyone is having a fantastic time. 🎉
In addition to the captivating stage performances, True Obsession offers a variety of other unforgettable experiences. For those looking to socialize and mingle with the lovely performers, the bar area is the perfect spot to strike up a conversation and get to know the stars of the show. You might even be lucky enough to share a drink with your favorite performer! 🍸
And for the more adventurous souls, True Obsession frequently hosts themed nights and special events that provide an extra layer of excitement to your evening. Whether it's a masquerade ball or a costume party, these events are the perfect opportunity to let loose, have fun, and create lasting memories in the heart of Bangkok's nightlife scene. 🎭
In conclusion, True Obsession is an extraordinary ladyboy bar that offers a one-of-a-kind experience for all who visit. With its alluring setting, captivating performances, and array of unforgettable experiences, it's no wonder that True Obsession has earned its place as one of the top ladyboy bars in Bangkok. So why wait? Head on over to True Obsession and discover the ultimate ladyboy experience for yourself!
2. King's Castle 2: Where Royalty Meets Extravagance
Next on our list is the legendary King's Castle 2, a renowned ladyboy bar that combines the grandeur of royalty with the extravagance of Bangkok's nightlife. Located in the famous Patpong district, King's Castle 2 is an iconic venue that has been enchanting visitors for decades with its majestic atmosphere and unforgettable performances. Let's dive into the history and unique features of this remarkable bar. 👑
The Legacy of King's Castle 1 and Unique Features of King's Castle 2
King's Castle 2 was born out of the success of its predecessor, the iconic King's Castle 1, which set the standard for girls and ladyboys in Bangkok. Carrying on the legacy of its sister venue, King's Castle 2 has continued to evolve, offering visitors a truly royal experience filled with glamour, sophistication, and top-notch entertainment.
As you enter King's Castle 2, you'll be greeted by an opulent setting that reflects the bar's regal theme. Luxurious furnishings, glistening chandeliers, and exquisite artwork adorn the walls, creating an atmosphere that is both grand and inviting. The spacious, multi-level layout ensures that every guest has a perfect view of the stage, while the elegant bar area provides a comfortable spot to enjoy a drink and soak in the ambiance. 🍷
Interaction with the Best Ladyboy Performers
What truly sets King's Castle 2 apart from other ladyboy bars in Bangkok is the unparalleled talent of its performers. These exceptional Thai ladyboys are not only stunningly beautiful but also highly skilled in their craft, delivering awe-inspiring performances that will leave you captivated. From high-energy dance routines to mesmerizing cabaret acts, the shows at King's Castle 2 are nothing short of spectacular. 🎤
But the experience doesn't end when the curtain falls. One of the highlights of visiting King's Castle 2 is the opportunity to interact with the best ladyboy performers in Bangkok. After the show, you can mingle with the stars, take photos, and even enjoy a friendly conversation over a drink. The performers at King's Castle 2 are renowned for their warm, welcoming personalities, ensuring that every guest feels like a VIP. 📸
In summary, King's Castle 2 is a must-visit destination for anyone seeking a luxurious and unforgettable ladyboy bar experience in Bangkok. With its rich history, regal atmosphere, and talented performers, this iconic venue offers a night of entertainment fit for royalty. So don your finest attire and make your way to King's Castle 2, where you'll discover a world where royalty meets extravagance.
3. Calypso Cabaret: A Spectacular Ladyboy Showcase
As we continue our tour of the best ladyboy bars in Bangkok, we can't help but mention our personal favorite: the Calypso Cabaret. Located in the bustling Asiatique Riverfront complex, not far from the renowned Nana Plaza, Calypso Cabaret offers a spectacular showcase of Thai ladyboy talent, blending traditional culture with modern entertainment. Let's explore what makes this extraordinary venue a must-visit destination. 🎭
Overview of the Fusion of Thai Culture and Modern Entertainment
Calypso Cabaret sets itself apart from the other 5 best ladyboy bars in Bangkok by offering a unique fusion of Thai culture and contemporary entertainment. As you settle into the comfortable, stylish seating of the theater, you'll be transported on a journey through the rich tapestry of Thailand's cultural heritage. The show features a stunning array of acts that pay tribute to the country's diverse traditions, while also incorporating the glitz and glamour of modern cabaret performances. 💃
From mesmerizing Thai classical dances to lively, contemporary numbers, Calypso Cabaret's shows encompass a wide range of styles and influences. The talented performers, dressed in breathtaking costumes, captivate the audience with their grace, skill, and charisma. The result is a one-of-a-kind experience that celebrates the beauty and diversity of Thailand's cultural landscape while also showcasing the remarkable talents of its ladyboy performers. 🇹🇭
Notable Shows and Reasons to Visit Calypso Cabaret
There are countless reasons why Calypso Cabaret should be at the top of your list of ladyboy bars to visit in Bangkok. The venue's impressive lineup of shows offers something for everyone, with acts ranging from high-energy pop medleys to enchanting traditional performances. Highlights of the Calypso Cabaret show include:
The elegant Thai classical dance showcases the performers' incredible grace and poise.
The dazzling Broadway-inspired numbers featured extravagant costumes and infectious energy.
The captivating cabaret acts, where performers channel the glamour and allure of Hollywood's golden age.
Beyond the unforgettable shows, Calypso Cabaret also offers visitors the opportunity to meet and interact with the talented performers after the show. This is your chance to take photos, chat with the stars, and learn more about the captivating world of Thai ladyboy cabaret. 🌟
In conclusion, Calypso Cabaret is an exceptional venue that offers a truly memorable experience for anyone looking to explore the best of Bangkok's ladyboy bar scene. With its captivating fusion of Thai culture and modern entertainment, stunning performances, and warm, welcoming atmosphere, it's no wonder that Calypso Cabaret holds a special place in our hearts. Be sure to add this spectacular showcase to your Bangkok itinerary!
---
---
4. Cascade Thai Ladyboys gogo Bar at the Nana Plaza
As we venture deeper into the vibrant world of Bangkok's Ladyboy bars, we arrive at the enchanting Cascade Ladyboy Bar, nestled within the lively Nana Plaza. This captivating venue offers a unique experience, with its stunning setting and themed nights setting it apart from the multitude of go go bars in the area. Let's dive into the magic of Cascade and discover why it's an essential stop on your Bangkok nightlife adventure. 🌊
Description of Cascade's Setting and Themed Nights
Cascade Ladyboy Bar truly lives up to its name, immersing you in a mesmerizing world reminiscent of a tropical waterfall. As you enter, you'll be greeted by a breathtaking, cascading water feature that sets the tone for the evening. The interior is adorned with lush greenery, ambient lighting, and plush seating, creating an atmosphere that is both alluring and relaxing. It's the perfect setting to unwind and enjoy the captivating performances by Cascade's talented ladyboy performers. 🌴
Adding to the allure of Cascade are its themed nights, which offer a unique twist on the traditional go go bar experience. Each night, the venue transforms to fit a different theme, such as exotic jungle, sensual seduction, or glamorous Hollywood. The performers don stunning costumes to match the theme, dazzling the audience with their beauty and skill as they take to the stage. These themed nights add an element of excitement and anticipation to each visit, ensuring that no two nights at Cascade are ever the same. 🎉
Why Cascade Stands Out Among Nana Plaza's Go Go Bars
Cascade Ladyboy Bar distinguishes itself from other Nana Plaza go go bars in several ways. Firstly, its enchanting, waterfall-themed setting offers a refreshing change of pace from the typical neon-lit interiors found in many of the surrounding bars. The soothing ambiance and unique decor create a memorable atmosphere that is sure to leave a lasting impression on all who visit. 🌟
Secondly, Cascade's themed nights set it apart from the competition, offering visitors an ever-changing lineup of entertainment that caters to a variety of tastes and preferences. This element of surprise and novelty keeps guests coming back for more, eager to see what new delights await them on their next visit. 🥳
Lastly, Cascade's talented ladyboy performers are renowned for their skill, beauty, and engaging stage presence. They effortlessly captivate the audience, ensuring that everyone has a fantastic time while enjoying the show. With a winning combination of enchanting ambiance, innovative entertainment, and exceptional talent, it's no wonder that Cascade Ladyboy Bar has earned its place among the top ladyboy bars in Bangkok. Don't miss out on this unforgettable experience!
5. Cockatoo Bar: A Cozy Retreat in the Heart of Nana Plaza
After exploring the enchanting Cascade Ladyboy Bar, we move on to another hidden gem located right in the heart of Nana Plaza: the cozy and inviting Cockatoo Bar. With its warm atmosphere, friendly staff, and unique experiences, this charming venue offers a more intimate and personal encounter with Bangkok's ladyboy scene. Let's delve into what makes Cockatoo Bar a must-visit destination on your ladyboy bar tour. 🍹
The Warm and Friendly Nature of Cockatoo Bar
Cockatoo Bar sets itself apart from other ladyboy bars in Bangkok with its welcoming and intimate atmosphere. As soon as you step through the door, you'll be greeted by friendly staff and performers, who are eager to make your visit an enjoyable and memorable one. The bar's cozy and comfortable interior, with its soft lighting and plush seating, creates the perfect setting for a relaxed night out. 🛋️
The warm and friendly nature of Cockatoo Bar extends to its talented ladyboy performers, who are known for their approachable and engaging personalities. They're always happy to chat with guests, share a laugh, and even offer some insider tips on the best places to visit in Bangkok. This sense of camaraderie and hospitality truly sets Cockatoo Bar apart, making it a favorite among both locals and tourists alike. 😊
Unique Experiences and Events at This Nana Plaza Gem
In addition to its inviting ambiance, Cockatoo Bar also offers a variety of unique experiences and events that make it stand out among the other bars in Nana Plaza. These special nights include themed parties, live music performances, and special promotions that keep guests coming back for more. Whether you're looking for a fun-filled evening of dancing or a laid-back night of conversation and laughter, Cockatoo Bar has something for everyone. 🎶
One particularly popular event at Cockatoo Bar is its weekly ladyboy bingo night, where guests can try their luck while enjoying the company of the bar's friendly performers. This entertaining event offers a fun and interactive way to experience Bangkok's ladyboy scene, with plenty of laughs, surprises, and even some prizes up for grabs. 🎉
In conclusion, Cockatoo Bar is a cozy retreat in the heart of Nana Plaza that offers a warm and friendly atmosphere, unique experiences, and a personal touch that sets it apart from other ladyboy bars in Bangkok. With its charming ambiance and engaging events, it's the perfect place to unwind and connect with the local ladyboy community. Be sure to add this delightful venue to your Bangkok nightlife itinerary!
Comparing the Top 5 Ladyboy Bars in Bangkok
| Features | True Obsession | King's Castle 2 | Calypso Cabaret | Cascade Ladyboy Bar | Cockatoo Bar |
| --- | --- | --- | --- | --- | --- |
| Nana Plaza | ✅ | ✅ | ❌ | ✅ | ✅ |
| Live Shows | ✅ | ✅ | ✅ | ✅ | ❌ |
| Themed Nights | ❌ | ❌ | ❌ | ✅ | ✅ |
| Cozy Atmosphere | ❌ | ❌ | ❌ | ❌ | ✅ |
| Cultural Fusion | ❌ | ❌ | ✅ | ❌ | ❌ |
This comprehensive comparison showcases the unique features and atmosphere of the top 5 ladyboy bars in Bangkok. Discover which one suits your preferences and make your night unforgettable.
Tips for the Ultimate Bangkok Ladyboy Bar Experience
As you embark on your journey through Bangkok's vibrant ladyboy bar scene, there are a few key tips to keep in mind to ensure you have the best possible experience. By following these simple guidelines, you'll be able to fully enjoy your night out while also showing respect and appreciation for the talented performers who make these venues so special. 🌃
How to Enjoy Your Night Out While Respecting Performers
Always be polite and respectful to the performers, staff, and other guests. Remember that everyone is there to have a good time, so be courteous and considerate of those around you.
Show your appreciation for the performers by clapping and cheering during their performances. If you're especially impressed, consider offering a tip as a sign of gratitude.
Keep in mind that some performers may be more comfortable with physical contact than others. Always ask for consent before touching or hugging a performer, and respect their personal boundaries.
Encouragement to Explore Bangkok's Vibrant Nightlife
While our top 5 ladyboy bars are an excellent starting point for your Bangkok nightlife adventure, don't be afraid to venture out and explore other exciting venues throughout the city. The Thai capital is brimming with lively bars, clubs, and entertainment options that cater to a wide range of interests and preferences. Embrace the opportunity to discover new places, meet new people, and immerse yourself in the rich and diverse culture of Bangkok's nightlife. 🍸